Miracle Monday Shiloh & Bailey Irvine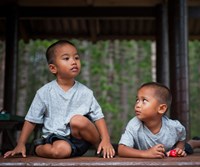 Kalai Irvine and Jackie Ruiz were elated to learn they were having twin boys, but that happiness quickly turned to a mash-up of fear, sadness and worry when they learned that one of their sons had a heart condition.
"I was sad thinking about the pain that my son will have to go through after just being born, and I was scared and worried thinking about the possibility that he might not make it to surgery," Jackie remembers.
"I felt at fault, that I did something wrong while I was pregnant. Could I have prevented this? A lot of questions crossed my mind."
Jackie's questions were answered at Kapiolani Medical Center for Women & Children, where Jackie received multiple fetal echocardiograms to monitor her son's condition and to make sure doctors at Rady Children's Hospital in San Diego received as much information to prepare for her delivery and Shiloh's surgery.
Her family also was invited to join a support group meeting at Kapiolani called Kardiac Kids.
"At the meeting, we met other families with children who suffer from congenital heart diseases who have been through what we had been trying to prepare for. We were welcomed with lots of love and support at the time we needed it most," Jackie says.
Now 4, Shiloh and his brother, Bailey, both are doing fantastic.
"You would never know that one of them had a heart condition; they are as energetic as can be and are inseparable!" Jackie says. "As a mother who has gone through the journey, I try to help others who are going through similar situations as much as I can by continuing to be a part of Kardiac Kids. I try to instill hope in them, like others did for me."