Miracle Balloons are Landing at Costco Hawaii this May!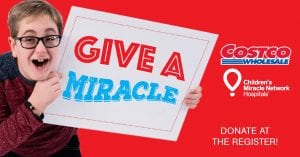 What do Costco Members + Kapiolani CMN Hospital supporters have in common starting May 1? They will be able to share their shared love for each other by being able to support Kapiolani Medical Center at the register at Costco!
Costco Hawaii will sell Miracle Balloons at their registers May 1-31 to raise vital funds for Kapiolani Medical Center for Women and Children. Since 1988, Costco Wholesale has raised more than $285.2 million for Children's Miracle Network Hospitals.
One-hundred percent of the money raised in Hawaii stays here to help our keiki, regardless of a family's ability to pay. Your gifts support meaningful programs that otherwise would not be possible. A few of our programs include: Child Life, Chaplaincy Program, and Educational Support Services.
Stop in May 1 and support kids treated at our hospital!