16TH ANNUAL KAPI'OLANI RADIOTHON FOR KIDS RAISES $516,250 FOR HAWAI'I KEIKI
HONOLULU (SEPT. 9, 2022) – Cheers filled the Kapi'olani Dining Room as KSSK's Curt Williams announced that for the second year in a row, the Kapi'olani Radiothon for Kids raised more than half-a-million dollars for Hawai'i children. Generous donors and community partners gave a total of $516,250 during the first in-person Kapi'olani Radiothon broadcast since 2019.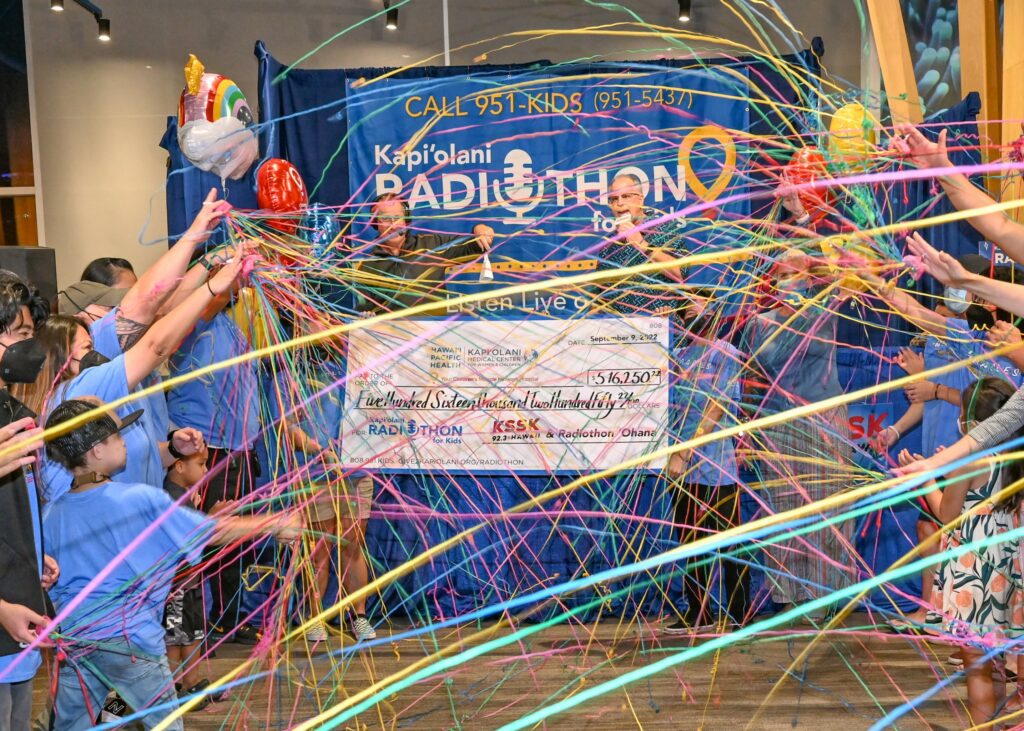 The exciting news capped off a day that began with the unveiling of a custom-decorated ambulance designated for neonatal and pediatric critical care transport. Outfitted with a school of bright-yellow fish and two playful honu, the ambulance was revealed to Kapi'olani's pediatric Critical Care Transport Team on the second day of the Radiothon. The team of highly skilled and trained nurses and respiratory therapists relies on this dedicated children's ambulance to transport critically ill babies and pediatric patients to and from Kapi'olani.
"This new ambulance design will make it feel like it's a fun journey instead of a trip to the hospital," said Sherri Sommer-Candelario, a registered nurse and pediatric Critical Care Transport Team manager. "It's more kid-friendly, and I think it will help our kids transition to the hospital a little bit easier."
The idea for an ocean-themed design came from a former patient who was transported to Kapi'olani in an ambulance. Local artist Tammy Yee brought the patient's vision to life. It was paid for by a donation from a family who received lifesaving care from the Transport Team.
"The idea for the ambulance wrap demonstrates how kids can make a difference," Sommer-Candelario said. "We as caregivers are so focused on the patient's care that it's good to take time to get feedback about things that we could do to make their experiences more positive. And if we can do it for the next patient, then that is our mission."
The newly outfitted ambulance inspired volunteer staff members who were answering calls to the phone bank. Then KSSK personality Michael W. Perry announced a "triple match" by presenting sponsor D. Suehiro Electric, Inc., meaning that for every donation that came through within the hour, the local electrical company would triple the total up to $30,000.
"The outpouring of support from the community is just amazing," said Kathryn Yamauchi, business manager with D. Suehiro Electric, Inc. "When donations stay in Hawai'i and we're able to help our own keiki or people whose kids go through some health issue and are being taken care of at Kapi'olani, it's a really proud connection."
Year after year, D. Suehiro Electric, Inc. and its staff commit both time and funds to the Kapi'olani Radiothon. In 2022, part of the company's donation will go toward the purchase of state-of-the-art butterfly ultrasound machines and vein finder equipment used to provide clear views of even the smallest blood vessels in newborns and infants.
"Little things make a huge difference," said Shawnalynn Lavatai, director of patient services at Kapi'olani. "So every dollar counts. And those are the things that really make the patient experience better."
Thanks to generous donations both big and small from the community, Kapi'olani was able to "check off" several items from its Wish List including:
· Car seats for the Injury Prevention Program.
· Beads of Courage to help pediatric oncology patients mark milestones.
· Distraction carts with toys and video games.
· Funding for the Animal Assisted Therapy Program.
· Sensory toys, stickers and other motivational prizes for kids.
These gifts help support exceptional care and innovative research at Kapi'olani that can keep Hawai'i families close to home. As a not-for-profit medical center, Kapi'olani treats kids no matter their illness or injury regardless of a family's ability to pay.
Nearly 20 local community groups, companies and sponsors joined D. Suehiro Electric, Inc. in lending their support to the 16th annual Kapi'olani Radiothon. This year's sponsors include UHA, Island Insurance, American Savings Bank, Hawaiian Electric, HMSA, Aloha Petroleum, First Insurance, AlohaCare, Windward Auto Group, Clinical Labs, Elite Mechanical, GEICO, Islands Hospice, Motiv8 Foundation, L&L Hawaiian BBQ, Swinerton, Raising Cane's and Rx for Miracles.
Event organizer iHeart Media Honolulu is proud of the Kapi'olani Radiothon's impact on the local community as Kapi'olani fulfills its mission of creating a healthier Hawai'i. All donations support Kapi'olani, Hawai'i's only CMN hospital, with 100% of every dollar raised staying in the islands to support programs and services that would not otherwise be possible.
People can still donate to the 16th annual Kapi'olani Radiothon for Kids online at Give2Kapiolani.org/Radiothon.